Best Ever GCSE Results for Wayland Academy
Back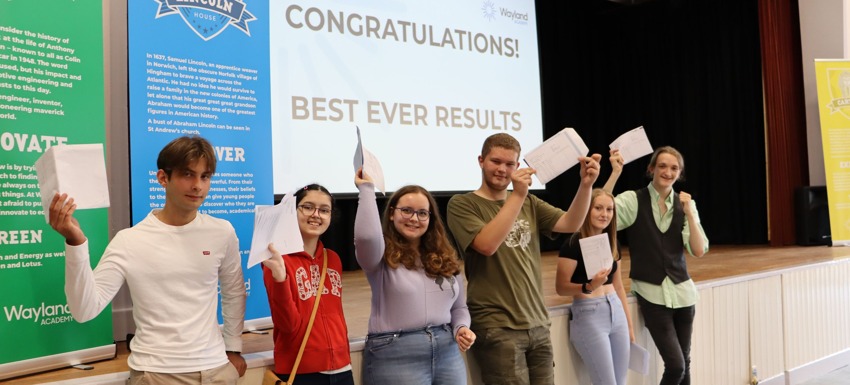 August 25th 2022
Wayland Academy pupils are rejoicing this morning after receiving stand-out GCSE results with 81% of grades 9-4 across Maths and English, seeing a 35% increase in English grades and 20% increase in Maths grades vs. 2019. The community school, which is located in the heart of Watton prides itself on its strong culture of raising aspirations, and helping pupils to achieve their very best.
Glen Allott, Principal at Wayland Academy, said:
"We are all incredibly proud of all the hard-work that our Year 11's have put in to achieve the great results that many pupils deserve. They have risen to the occasion and gone beyond our expectations in many cases. Our mantra has been "no excuses" and they have exemplified this. We would like to wish them all the best for the next stage of their educational journey and whatever their futures will bring."

It is clear that such success hasn't gone unnoticed in the community either, with the school currently oversubscribed. Wayland Academy is extremely proud of its students' efforts and the hard work that has gone into revision for these exams. In preparation for the first external assessed GCSE's since the pandemic, students had access to extra support and advice in order to gain confidence in their skills and learning.

Jack Chilvers, Year 11 student at Wayland Academy, said:
"Wayland Academy has been really supportive and has been great for my education. I'm so happy with my results, all of my hard work was worth it."

Alyna Arnold, Year 11 student at Wayland Academy, said:
"I am so glad with my results and have enjoyed my time at Wayland Academy. I look forward to going to Sixth Form to study Biology, Chemistry, Mathematics and Geography."