Achievement Evening
The principal's address for 2020's Achievement Evening:
Thinking back to Year 7 reminds me of the amazing journey you have undergone in the last 5 years. You have grown both academically and morally to become young adults that have the world at their feet. You should be very proud of your achievements and for how you have coped through the challenges of the past two years. For those of you who are motivated and hardworking, there are unlimited opportunities, and I look forward to hearing about the amazing careers and experiences you have in the future.
The Achievement Evening is about celebration; everyone should take pride in what they have accomplished and know in their hearts that they did the best they could. Although you may not have sat public exams, all of you underwent a rigorous process of assessments, mocks and/or controlled assessment to provide the evidence to validate your final grade. It was not a normal year, but you should still be proud.
This evening celebrates every student, across a broad range of subjects, as well as individuals in specific Subject Awards and finally our Academy Awards. I would like to thank our sponsors for their kind donations.
I would also like to thank our guest speaker and our Master of Ceremony for this evening.
Good luck in everything you do in the future.

Subject Awards recognise students who effort and attainment in a certain subjects:
---
The Subject Award for Art and Design
The award winner has shown herself to be an exceptional artist who has a distinctive illustrative style. Her extensive research helped her to develop her own way of drawing. She took the challenge of using a range of media and techniques and spent time and care perfecting each and every one. We hope to see her illustrations and books in the graphic novel section of book shops very soon.

The award goes to Summer King
---
The Subject Award for Biology
The award winner has shown a brilliant understanding of the natural world. He is a competent scientist in all three fields of study but in Biology showed a real depth of knowledge. While we hope he chooses to pursue a career in Science, we know that he will be a huge success in the many opportunities that life will have in store.
The award goes to Sam Lucas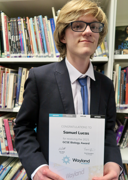 ---
The Subject Award for Business Studies
Throughout the course the award winner was able to demonstrate high achievement through his assessments, business plans and group work. He maintained a high level of effort throughout lockdown and showed when he returned back to school. His success in business studies is a testament to his knowledge and application of that knowledge to real life business examples. We wish him the best in the future and that he remembers us when he becomes the next Richard Branson.
The award goes to Linus Dobbin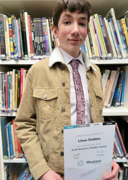 ---
The Subject Award for Chemistry
Hard work and determination; these describe this award winner's pathway to incredible success in Chemistry this year. Her effort and knowledge in lessons has been of the highest quality, but it was the hours spent outside of school time that gave her the greatest chance of success. A shining example to all pupils of what can be achieved. Good luck in all you do, we have no doubt you will be very successful.
The award goes to Eduarda Mucavele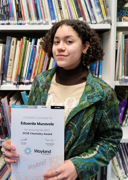 ---
The Subject Award for Computer Science
Even after a challenging start in Year 10, this award winner worked exceptionally hard to turn his learning around. He was focused in lessons, consistently engaging with questioning and tasks that were set. Striving to extend his knowledge enabled him to show a deep understanding of many of the concepts studied. He was able to write excellent extended responses to questions and thoroughly deserves his success.
The award goes to Ben Andrews
---
The Subject Award for English Language
This award winner was able to absorb a continuation of advanced concepts and ideas, whilst able to control and synthesise her output to achieve an extensive series of successful assessments. Her input and involvement in language lessons were crucial to the success of the class; she created a culture of learning that her peers thrived off and in turn, became successful themselves.
The award goes to Eduarda Mucavele
---
The Subject Award for English Literature
This awards winner's contributions and ideas in English Literature were often viewed upon by his peers as 'out-there', 'left-field' and at times, risque - but - his relentless search for meaning within a vast body of work allowed him to scrutinise the most complex and difficult concepts, building a mature and advanced understanding of literature. He made the subject his own and commanded it with the same level of sophistication as a literary critic belonging to a college or university.
The award goes to Joe Browning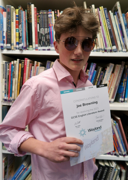 ---
The Subject Award for French
This award winner is a talented linguist, who always participated enthusiastically in all of her lessons. She was confident in speaking French, and enjoyed using it outside the classroom too. Her writing and speaking responses were often unusual, but they were always of an impressive standard. We hope you will have the opportunity to use your language skills in the future.
Tres bien!
The award goes to Beau Bonner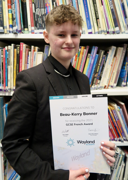 ---
The Subject Award for Geography
This award winner has worked hard to achieve more than she could ever have imagined at the start of her GCSE journey. Working solidly throughout the two lockdown periods, making sure that tasks were always completed. Pushing herself to complete extension tasks to stretch and challenge herself, but never giving up. A true role model within her group, she was always willing to support others around her.
The award goes to Ibbi Ivory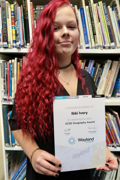 ---
The Subject Award for History
This award winner worked exceptionally hard for the duration of the course. Her effort and attitude in class and online was exemplary, reflected in a very well-deserved grade 9. Her work was always of the highest quality, going above and beyond what was expected, spending considerable time outside of class producing outstanding revision notes.
The award goes to Lily Chapman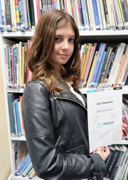 ---
The Subject Award for Hospitality and Catering
Throughout the course this award winner was always enthusiastic, he demonstrated a passion for cooking with different ingredients, challenging himself with skills and different recipes, practicing and creating. He worked consistently hard throughout his controlled assessment to achieve above his target grade. We know that he is going to progress well in life with his polite, calm and positive attitude. We wish him good luck with his course and in the future.
The award goes to Josh Terzza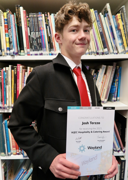 ---
The Subject Award for Mathematics
The award winner is an exceptionally gifted mathematician who has demonstrated enthusiasm and drive within the subject which, coupled with his natural flair, led to the remarkable achievement of a grade 9. He consistently shows a deeper level of understanding and questions rather than just accepting answers, frequently keeping his teacher on her toes! Miss Gooding said "It has been an absolute honour and privilege to be Sam's teacher for four years." We have no doubt this young man has an amazing future ahead of him.
The award goes to Sam Lucas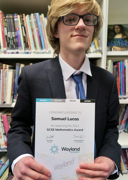 ---
The Subject Award for Rock School Music
This award winner worked incredibly hard throughout the course, her ongoing progress and dedication to music had a clear impact on her development within her instrument and subject knowledge. She attended all extracurricular music activities and each week would always look to better herself and her ability. From singing, to bass or to guitar, she never shied away from a challenge. As a result she earnt herself an extremely well deserved Distinction. She has been an absolute pleasure to coach and guide and we hope she continues to play and practice music as she has a wonderful talent and passion for Music.
The award goes to Maria Szin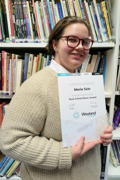 ---
The Subject Award for Performing Arts
This award winner's journey through Performing Arts was an extremely admirable one. Her development as a performer specifically in dance saw her make excellent progress and this was evident in her component grades, receiving a Level 2 Distinction overall. We hope she chooses to use her knowledge, ability and passion to pursue a career in dance. She is a fantastic performer and we wish her every success in the future.
The award goes to Amber Sayer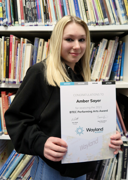 ---
The Subject Award for Physics
All of this award winner's science teachers would describe him as hard working, focused, inquisitive and detail orientated. These are all important skills to possess to become an excellent scientist. He is an incredible physicist, his understanding of how to apply his mathematical ability to solve physics problems is second to none. He demonstrates excellent knowledge in all areas of physics. Thank you for being an outstanding member of our Physics class.
The award goes to Sam Lucas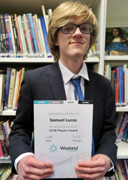 ---
The Subject Award for Photography
This award winner was chosen due to her exemplary course planning, preparation and her ability to develop thought provoking photoshoots. Her attention to detail and planning for her photoshoots created some intense, emotive photos. She took on the theme of mental health and her hard-hitting photos are incredibly moving and shocking. The winner spent time considering where and how to exhibit her work, this also added to the intensity of her photography.
The award goes to Danielle Newby
---
The Subject Award for Combined Science
This award winner's progression through Science has been remarkable. His internal drive to improve has seen his work ethic increase and has resulted in incredible results, way above his target grades. From independent work to supporting other pupils to improve, he has been a valuable member of his class and a pleasure to teach.
The award goes to Ethan Kirk
---
The Subject Award for Sport
This award winner's effort and attitude in both the classroom and online lessons was outstanding. His hard work and dedication to continually improve was evident with him going on to achieve above his target grade in gaining a distinction. The winner showed great leadership and teamwork skills, and demonstrated a positive attitude to learning at all times. He was a pleasure to teach and we wish him good luck for the future and on his course at King Edwards VII.
The award goes to Leo Windsor
---

The Subject Award for Statistics
This award winner worked consistently hard in statistics throughout the course. She was a driving force, asking questions, seeking clarification and offering responses and suggestions. Her determination, enthusiasm and willingness to try saw her make rapid progress and secure the very highest grade. She is richly deserving of this award, and it is reflective of the enormous amount of hard work she has put into her studies and the high level of engagement she has sustained throughout the course, including during online learning.
The award goes to Eduarda Mucavele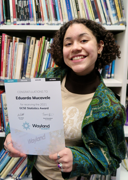 ---
The Academy Awards are issued for recognition of a students work across the academy
The Award for Progress
This award winner has had an amazing journey whilst at Wayland, her level of progress has been phenomenal. Her average grade was almost 4 grades higher than her targets. She achieved a superb set of grade 8s as well as grade 9's in English and Separate Sciences. On the way to these brilliant grades, she achieved a grade 5 in Photography in Year 10, a course she completed after school. She also topped these results with a grade 9 in Portuguese, her native language. She has progressed to Sir Isaac Newton Sixth Form and we are sure she will progress on to a successful career in the future.
Well done, we wish you every success in the future and whatever career you choose.
The award goes to Eduarda Mucavele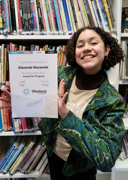 ---
The award for Contribution to School Life
This student was always confident in who she is and who she wants to be. During her speech for Head Student interviews, she chose Muhamed Ali as her role model. The main reason for this was that Ali fought hard for what he believed in and supported those who couldn't always stand up for themselves. I think it is fair to say the award winner lived up to this. She was a great support for others in the Academy. She was a valuable member of our school council and gave other students a voice. She would describe herself as (and these quotes are taken from an application or head student) patient, reliable, respectful, an effective communicator, leader and confident. The staff and students in the Academy would definitely agree.
The award goes to Beau Bonner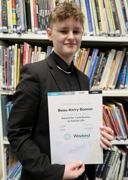 ---
The Principal's Award
The Principal's award is our final award of the evening and the winner we retain this amazing trophy for the next year.
This student who will receive this award achieved an astonishing set of results in the summer, including six grade 9's. These grade 9's included maths, statistics and separate sciences, putting him in the top 5% nationally for GCSE maths. He also achieved two further grade 8's and two grade 7's. This set of results is an incredible achievement and he should be incredibly proud of them. We are sure he will progress on to do amazing things in life, currently he is at Dereham Sixth Form and we are sure that in the future he can go on to great things.
The award goes to Sam Lucas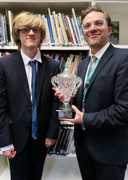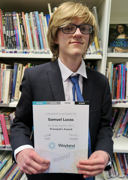 ---
We would like to thank our sponsors, Wayland Chamber of Commerce and Watton Town Council, for their kind donations Without their generous donations, we would not be able to provide the gift vouchers that award winners received.